Spectrum Plumbing and Heating trains our technicians to meet the needs of the customer. The pain of going through leaks, extra costs incurred that were not in the monthly budget and the heartache of going through these emergency situations can feel overwhelming. Now you have the job (as it feels) to find a company that is dependable, trustworthy, and one who is not looking to take advantage of your circumstances. Spectrum Plumbing and Heating was founded on the idea to help the customer, and provide a safe and warm feeling in your heart from having us in your home. As we hope not to hear from you because that means you do have a plumbing problem, we look forward to making a relationship with your trusted plumber for you and your family. If it's plumbing – we can repair it

Main Water Line Replacement in Bellingham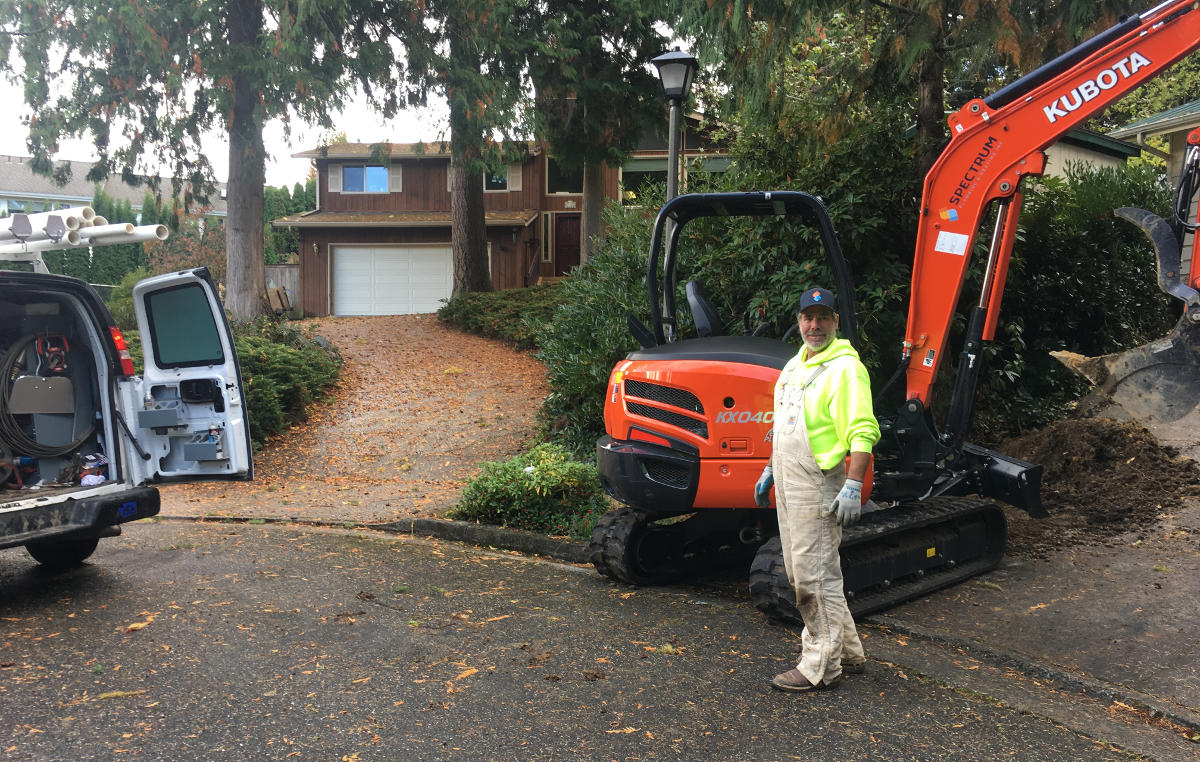 Replacing the main water line at your home can be a huge hassle. That's why you want to work with a company that has the experience and training to get it done right the first time. Spectrum Plumbing and Heating is proud to provide high quality and reliable water line replacement in Bellingham, Wa.But how can you tell when you need to replace your water line? There are a number of very important signs to look for. Here are some of them.
Sudden spike in water bill: This can be an indication that you have a leak or crack in your water line. This can be caused by old age, the ground shifting, tree roots, natural disasters or a dent in the pipe.
Soggy spots in your yard: This is another tell–tale sign. If you notice that there are patches of your yard that are soggy it could indicate that there is a leak below.
Raised spots in your yard: In certain cases, the soil in your yard might actually expand and push your yard up when there's a leak in your water main.
Reduced water pressure: When you have a leak in your water main, some of the pressure can be released through the leak. This will lower the flow rate at your faucets or shower heads.
How Is Water Line Replacement Done?
In the past, water line replacement would involve digging a huge trench in your yard to access the water line. While that technique is still used in certain situations, in many cases trench-less techniques can be used to avoid all that extra work.At Spectrum Plumbing and Heating we offer trench-less main water line replacement. With this technique, only one or two holes need to be dug on your property to allow our plumbers to access your water line. After that there are two different ways we can replace it.
Pipe bursting: In this method, a new pipe is dragged through the old one using a pneumatic pump and a sharp, metal head. The head destroys the old pipe and leaves the new one in its place.
Pipe lining: With this method a new, flexible pipe is dragged through your old one. Then an inflatable bladder is pulled inside the new pipe and inflated so that the new pipe can harden and stick to the inside walls of your old pipe.
Bellingham Water Line Replacement
If your main water line has started to leak or if it's clogged with tree roots and you need it replaced, call Spectrum Plumbing and Heating. Our expert plumbers have years of experience working replacing water lines throughout the Pacific Northwest area. We can get your new water line in fast and make sure that it works for many years. Give us a call today to talk with one of our trained plumbers and to learn more about our trench-less main water line services.